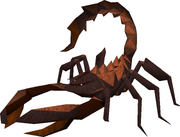 The King of all Scorpions, this scorpion is far more accurate than the inferior scorpion species.
Hitpoints: 60
Level: 32
Max Hit: 3
Attack Speed: Longsword Speed
Location(s)
Edit
These monsters are only located at their spot in Low Level Training Area.
This monster has no drops.
There are three types of Scorpions on Fire-Pk
There is no Queen Scorpion
The King Scorpion is notably bigger than other scorpions
The King Scorpion is the only scorpion where you can see its eyes.
Ad blocker interference detected!
Wikia is a free-to-use site that makes money from advertising. We have a modified experience for viewers using ad blockers

Wikia is not accessible if you've made further modifications. Remove the custom ad blocker rule(s) and the page will load as expected.